LFV statistics indicate a record year for aviation
The number of aircraft movements in Swedish airspace increased by just over 1% in 2015, coming up to 712,000. During the 2000s, the only year with more movements was 2008. This information comes from LFV traffic statistics for last year. "The statistics show that aviation is important for Sweden's accessibility, both within the country and with the rest of the world," says LFV's Communications Director, Elisabeth Lindgren. Of the three categories of domestic, international and overflights, the latter accounted for the largest increase in 2015 at just over 2%. International flights increased by 1.3% and domestic flights decreased by 1.5%. Overflight traffic represents more than 40% of the total volume of traffic and consists of traffic that does not start or land in Sweden. Of course, there is a strong correlation between the increase in the number of movements and the fact that Stockholm Arlanda Airport breaks the passenger record of over 23 million passengers in 2015. "The majority of overflights in Swedish airspace consist of traffic between Asia and Europe. Domestic movements are decreasing, while the number of passengers is increasing. This means each aircraft is fuller, which is also good for the environment," says Elisabeth Lindgren. Looking at developments during the year, air traffic decreased from January to October while it increased in the other months like-for-like in 2014. The biggest increase was in December, when traffic increased by just over 3%. "Statistics from Eurocontrol for the EU are not ready yet for the whole year of 2015, but November figures suggest an increase of 1.5% for 2015 overall," says Elisabeth Lindgren. For more information please contact the LVF press service on +46 11 19 20 50. Information about LFV. LFV offers air traffic management, air traffic services and related services, both nationally and internationally. LFV is involved in developing European airspace through its cooperation in various alliances and organisations. LFV is developing new services and operational concepts in order to meet the ever greater requirements for capacity, accessibility and sustainability. LFV was first in the world to introduce operational approval for remotely operated air traffic control. Since April 2015, LFV employees in Sundsvall have been controlling air traffic at Örnsköldsvik Airport. LFV has 1,200 employees and has an annual turnover of SEK 2.6 billion.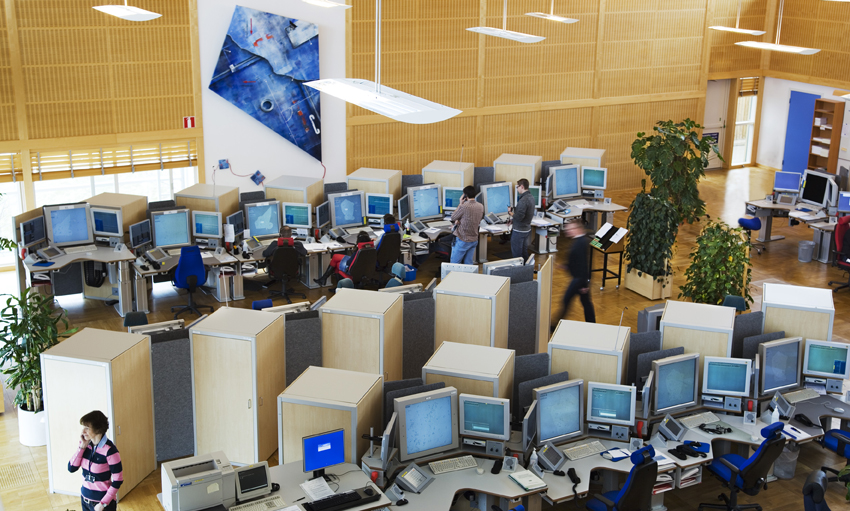 LFV Air Traffic Control Center, Malmö, Sweden.