LFV & Vattenfall collaborate on fossil free airport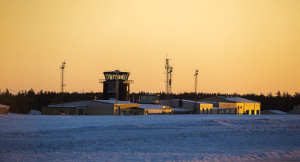 LFV and Vattenfall are now initiating a research collaboration that involves further steps towards a fossil-free transport sector. The starting point will be the new research arena LARC (LFV Aviation Research Center) at the airport in Örnsköldsvik, where solutions for fossil-free airports will be developed and be able to function as a template for other airports.
The research collaboration is the result of a Letter of Intent between LFV and Vattenfall, which involves research and development for the transition to a sustainable flight and to jointly develop a comprehensive solution for what a fossil-free airport should look like.
The letter of intent with Vattenfall is an initiative that is in line with LFV's establishment of LARC in Örnsköldsvik, a new collaboration arena for industry, academia and society. All within the framework of unmanned aviation, electric aviation, airspace issues and airport operations. In close collaborations like this, we create opportunities to develop and validate new solutions for increased safety, cost efficiency and reduced climate impact, says LFV's acting research director Gunnar Olsson.
Together with LFV, we want to find solutions and install charging infrastructure so that it will be possible to completely switch to electric vehicles – to, from and within the airport area and in the long term also for electric aircraft. Other solutions can be the installation of photovoltaic systems and battery storage that provides fast access to electricity when the customer needs it, says Maria Lindberg, head of Vattenfall Network Solutions in Sweden.
New solutions are being developed
In LFV's and Vattenfall's collaboration, these include new solutions for:
Refueling of vehicles (charging with electricity and / or battery replacement).
Transport within the airport area (buses, cars, aircraft, tugs, tractors and other ground transport vehicles).
Micro-producing infrastructure such as photovoltaic systems.
Uninterruptible power through, for example, redundant systems and their ancillary services.
A plan is now being developed where goals, forms and time horizons for the collaboration are concretized by, among other things, enabling regional flights at distances from 400 km and more.
The solution for a fossil-free airport in Örnsköldsvik will then be able to function as a template for more airports. The next step is to examine export markets with associated structures and strategies for fossil-free airports.
Read the full news story here >