GECAS to Introduce Telair's New Flexible Loading System with Boeing 737-800 Converted Freighter Operators
Telair Receives Certification for Its New Flexible Loading System™
FEBRUARY 5, 2018 – SHANNON, IRELAND – Telair International AB today announced it has received certification for its new Flexible Loading System™ (FLS) for all current production and in service Boeing 737 aircraft. The system allows 737 operators to carry containerized cargo (baggage, mail, and parcel freight) in the lower hold of the aircraft, along with bulk-loaded bags.
GECAS, the largest commercial aviation lessor in the world, will offer the new Flexible Loading System to GECAS' 737-800 freighter conversion customers on aircraft entering service this year. As announced at last year's Paris Airshow, GECAS plans to convert 30 737-800s to freighters, with deliveries beginning in 2018.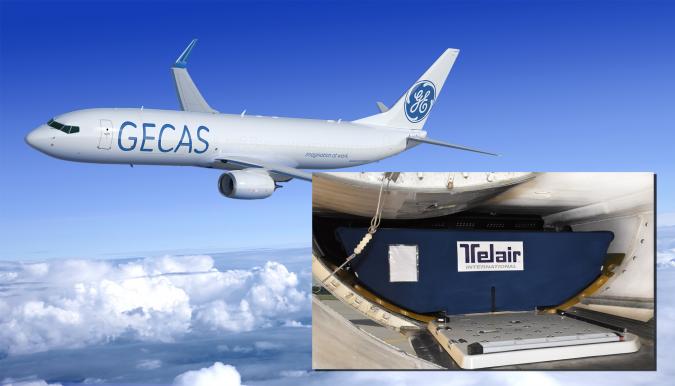 "This system improves loading efficiency and adds flexibility, especially for Combination, Express and Ecommerce operators. The new system enables them to interline the Telair containers and reduce bulk loading times," said Richard Greener, Senior Vice President & Manager, Cargo Aircraft Group, GECAS. "The Flexible Loading System allows Telair's containers to be preloaded and screened at the cargo sort facility and brought on board the aircraft using existing bulk loading equipment."
The FLS includes three components: 1) the Telair EDGE Sliding Carpet, an on-board conveyer system for loading and unloading bulk cargo, which is currently installed on the 737 MAX and is about 40 percent lighter than existing variants; 2) new containers designed specifically by Telair for use with the Sliding Carpet on the 737; and 3) a new powered doorway ball mat for transferring the containers on and off the Sliding Carpet, to and from standard ground-handling equipment.
"Telair will work with GECAS and GECAS' customers to install the system in the second quarter of 2018," said Anders Helmner, President and CEO of Telair International, AB, in Sweden. "We are extremely excited that the system's launch installation is on the 737, the most popular aircraft in the world. The Flexible Loading System is an industry game-changer."
The Telair Sliding Carpet has successfully served thousands of aircraft and dozens of carriers worldwide for more than 25 years. EDGE models use carbon fiber technology to achieve weight reduction over previous designs, and high reliability. The FLS containers and ball mat similarly use state-of-the-art materials to achieve low weight and extreme durability.