Belgium chooses Saab's solution for remote-controlled air traffic control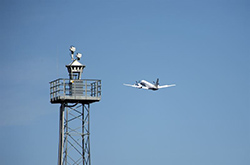 Belgium's leading player in air traffic control, skeyes, has chosen Saab Digital Air Traffic Solutions (SDATS) as a supplier for a long-term framework agreement for Belgium's remote air traffic control implementation program.
The agreement includes a step-by-step introduction of remote-controlled air traffic control towers for up to six airports and three command centers in Belgium. The framework agreement, which consists of a fixed and an optional part, amounts to a total value of just over 48 million Euros over an 18-year period. The first step includes Liege and Charleroi airports as well as a Namur command center.
Deliveries to skeyes will take place from 2022 and the first solutions will be put into operation in 2024. Air traffic is an integral part of Belgium's infrastructure and the long-haul air traffic management program is an innovative initiative aimed at ensuring a sustainable and long-term solution that may become a role model in Europe.
"We are proud to receive skeye's trust to deliver SDATS' solution for remote-controlled towers and exchanges to Belgium's future infrastructure for air traffic control. The agreement will later also cover larger and more complex airports and our solution will be implemented throughout the country. Our technology for remote-controlled air traffic control will provide Belgium and skeyes with world-class capabilities. For us, skeyes is a long-term partner, which will help our capabilities become even sharper in the coming decade," says Per Ahl, CEO of Saab Digital Air Traffic Solutions.
"Innovation and development are central to skeyes. We invest continuously to develop our working methods, cutting-edge technology and high competence in air traffic management, and to ensure that air traffic at Belgian airports and in Belgian airspace is safe. We are ready for a future in an international environment that is constantly changing and where competition is high. Single European Sky, unmanned air traffic and the privatization of air traffic control are some of the challenges we face. In our sector, technology is one of the most important factors for change. Remotely controlled solutions are a major step in the development of air traffic control, which is something that skeyes welcomes. SDATS is a stable and long-term partner that is well suited to implement our program for remote air traffic control starting in Namur for the airports Liege and Charleroi," says skeye's CEO, Johan De Cuyper.
Remote controlled solutions are a breakthrough in air traffic control that started in Sweden in 2015. Since then, remote controlled control centers have been introduced at Arlanda, at Cranfields Airport and for London City Airport in the UK. In 2022, the technology will also be introduced at Schiphol in Amsterdam for several airports in the Netherlands.
Saab Digital Air Traffic Solutions is a joint venture project between Saab and LFV (Luftfartsverket). By combining LFV's unique operational experience with Saab's world-class technical solutions, Saab Digital Air Traffic Solutions can handle the entire process – from planning to implementation and administration of services in remote-controlled air traffic control. As a supplier of both technology and services, the company offers new and advanced solutions for remote-controlled air traffic control in Sweden and abroad.