Ten million kronor for aviation industry research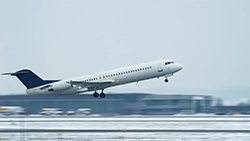 Mid Sweden University has been granted ten million kronor by VINNOVA for further research on the airport of the future. In addition, Mid Sweden University and LFV sign a collaboration agreement on research on air traffic control and airport operations within the framework of the LFV Aviation Research Center, LARC, in Örnsköldsvik.
"We have a good project consortium where all actors have a strong interest in developing methods and technology for the autonomous airports of the future," says Benny Thörnberg, associate professor at the research center STC, Mid Sweden University.
The two-year project aims at continued research on remote-controlled airports and research on self-driving vehicles that in the future will handle, for example, monitoring, friction measurement, snow removal, sweeping, cargo handling and de-icing. The project uses, among other things, technology that keeps track in real-time of where individual vehicles are at the airport, but also technology that will provide more detailed information about the runway's conditions for increased operational safety.
The goal is for remote control and autonomous control to be gradually introduced at the Remote Tower Center (RTC) in Sundsvall, where it will be possible to give assignments to autonomous ground vehicles and other functions at Örnsköldsvik Airport.
"We want to create a digital twin to Örnsköldsvik Airport at RTC in Sundsvall. In the long run, the goal is to also be able to use the technology to monitor the airspace with the help of drones and also control where other drones are allowed to fly and not" says Benny Thörnberg.
"The collaboration is important for LARC, LFV Aviation Research Center whose purpose is to drive research and innovation around aviation challenges in collaboration with industry, academia and society. The contribution of academic competence is central to producing qualitative research results and developing knowledge. We need to develop and demonstrate new solutions to reduce climate impact, increase cost efficiency and at the same time guarantee safety" says Gunnar Olsson, acting head of research at LFV.
It is important that we cooperate with development initiatives in the region and the aviation industry, in particular, is an exciting area. Through the agreement, we can gather strength and create conditions for carrying out joint research and development activities, says Hans-Erik Nilsson, dean of the Faculty of Science, Technology and Media at Mid Sweden University.