LFV successfully demonstrates the multiple remote tower air traffic control system at Malmö Airport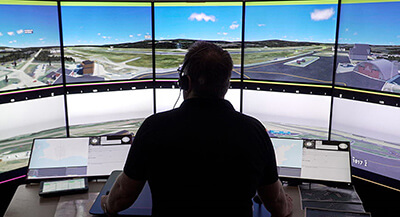 LFV has successfully demonstrated the multiple remote tower function at Malmö Sturup. This is an extension of the remote air traffic control system pioneered by LFV in 2015, first implemented at Örnsköldsvik Airport and now in operation at Sundsvall Timrå, Linköping City, Scandinavian Mountains, Kiruna and Åre Östersund airports.
Remote air traffic control was developed and eventually put into operation based on a one-to-one concept where an air traffic controller would manage the air traffic at an airport. Multiple remote towers were then further developed on a step-by-step basis, evolving to incorporate more complex situations.
"There are many factors to take into account in that development work. It can be about the complexity at the various airports, the type of traffic you handle and not least the workload on the individual air traffic controller. It is not only a work environment issue, but also an aviation safety issue," says Lindsey Martenez Hermosilla, program manager within LFV for the research of multiple remote towers.
LFV leads the research on using multiple remote towers in collaboration with SESAR. SESAR is an EU project that strives to develop and streamline the European aviation industry, which includes airports, airlines and air traffic service providers such as LFV. The goal of this research project is to design a workplace for the air traffic controller from where he or she can manage air traffic at two or three airports at the same time.
"To reach the full effect of remote air traffic control in terms of efficiency, multiple remote towers are an obvious and necessary step to take. It feels good that Sweden is far ahead in that development," says Lindsey Martenez Hermosilla.