GSE Industry Creating New Equipment to Keep Users Safe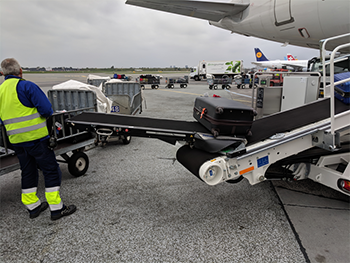 GSE manufacturers are making improvements to equipment to help ground handlers perform their work on the ramp and at the baggage carousel injury free.
Work performed on airport ramps around the world can be difficult and physically taxing. In order to keep ground handlers from suffering injuries, the GSE industry is constantly evolving and creating new equipment to keep users safe. Power Stow and Telair International, along with partners Swissport and AUXIVO are among those advancing GSE designed to protect the people who repeatedly load and unload baggage.
Help Loading the Aircraft
Qantas Airlines was in search of an aid to load and unload their aircraft in combination with their on-board sliding carpet loading system. The airline connected with Telair and the RTT Longreach was subsequently born.
The self-contained, bolt-on extension for belt-loaders allows users to handle baggage and cargo at a comfortable working height, sliding the items off the belt-loader safely.
It can be operated with either a joystick or handle with the use of only one hand, explains Andrew Freeman, manager of U.S. sales and field services at Telair.
"Up/down and inward/outward operation is fully powered and side-to-side movement is manual," he explains, adding the latter function is designed to protect the doorway of the aircraft. "It can be used at the front and back of any diesel or electric belt-loader," he continues. "It has a unique ball tray design at the front, allowing the loader to easily position cargo in the direction needed without heavy lifting."
The RTT Longreach can also completely retract, so that it does not protrude when the belt-loader is being driven on the tarmac. The device, which can be installed by the OEM or by Telair as a retrofit, is used in Australia, Denmark, Sweden, Norway, Dubai, Germany, London, the Netherlands and Singapore by airlines, ground handling companies and airports.
"Being that the RTT is developed in Sweden, and initially designed for Qantas in Australia, we focused on creating a system that works in all climates," Freeman explains, adding it can also be used in the terminal.
Freeman says the RTT Longreach's goal is to create ergonomic cargo loading conditions, to protect users from injury while increasing efficiency. "The RTT takes the heavy lifting out of the equation by allowing the user to manipulate the belt-loader to his or her needs," he says, noting a unit can handle 50 kilos of cargo at a time and 150 kilos when the RTT is in a supported position. "It bridges the gap between the belt-loader and the aircraft, presenting the cargo to the loader – as opposed to having to reach for it."
In addition to user safety, company officials say the equipment can speed up operations. It can mitigate aircraft damage as the RTT is designed to extend into the cargo compartment, allowing the belt-loader to be positioned further away from the aircraft. Likewise, it offers a level of protection to the cargo.
"The belt has also been widened to better accommodate wide body loading as the angle greatly changes due to the height difference of the belt-loader and wide body aircraft," Freeman says. Jan 13th, 2020
View the full article from Aviation Pros here >