Emirates operates milestone demonstration flight with Neste MY Sustainable Aviation Fuel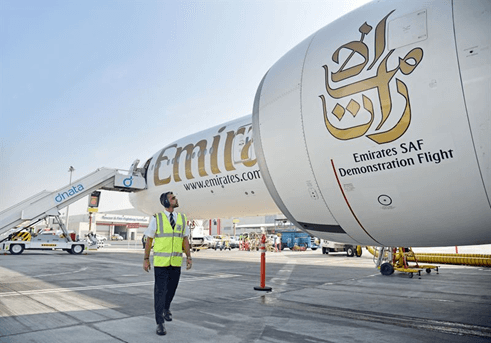 Emirates, one of the world's largest international airlines, conducted its first milestone demonstration flight on a Boeing 777-300ER using Neste's Sustainable Aviation Fuel (SAF) to fully power one of its engines. The flight departed from Dubai International Airport (DXB) on January 30th and flew for over an hour over the city's coastline. This is the first demonstration flight in the Middle East and North Africa where an aircraft engine was powered by 100% SAF.
The Emirates demonstration flight strengthens the broader initiatives in place that will allow planes to be certified to operate on 100% SAF in the future. It adds to the evidence that is currently paving the way for 100% SAF to be accepted as a replacement for traditional jet fuel, beyond the 50% blend limit currently permitted. The test flight demonstrates that SAF is a safe and dependable propulsion source and further validates that the Boeing 777-300ER or GE90 engine will not need any modifications, alterations or special maintenance.
During the flight, the GE90 engine was powered by eighteen tons of SAF, made completely from renewable raw materials, while the other engine was fuelled by conventional fossil jet fuel. The sustainable fuel was developed over a year by Neste and Emirates in collaboration with GE Aerospace, Boeing, Honeywell and Virent to simulate the characteristics of regular jet fuel.
About Sustainable Aviation Fuel
Produced without crude oil, SAF is the next generation of aviation fuel that provides a more sustainable alternative to conventional, fossil-based jet fuel. Neste's SAF is produced from sustainably sourced renewable waste and residue raw materials such as used cooking oil.