Events
Image courtesy of LFV
Members Meeting with new SAG Association Regulations
The Swedish Aviation Group will host a board meeting on 30th May 2018 followed by a members meeting; a guest speaker will be confirmed shortly.
Previous: Passenger Terminal Expo 2018
SAG was delighted to exhibit at the world-leading airport exhibition, Passenger Terminal Expo in Stockholm on 20th to 22nd March. The event was a busy three days, with plenty of visitors stopping by the SAG stand – thank you to those that stopped by to speak to the team.

Location
Stockholmsmässan, Stockholm
Date and Time
20th March 2018, 09:00
Previous: Presentation from Ministry of Enterprise and Innovation
The Swedish Aviation Group were joined by Nils Paul from the Ministry of Enterprise and Innovation to present an overview of the Swedish Government's aviation strategy. Prior to the presentation, SAG had a productive board meeting and membership meeting.
Previous: Digitization in the Aviation Industry
The Swedish Aviation Group hosted a seminar on 27th April 2017 focusing on digitization in the aviation industry, which was attended by our members and their contacts. The seminar featured speakers from Eltel Networks Infranet AB, Combitech AB, LFV and The Swedish Transport Agency.
Speakers
Jan Nilsson, Business Developer, Eltel Networks Infranet AB
Magnus Johansson, Business Aera Manager System Integration, Combitech AB
Michael Thydell, Arcitect/BIM-strategist, Sweco
Tobias Hjärtsjö, CIO and assisting manager System & Development, LFV
Ingrid Cherfils, Director of the Maritime and Civil Aviation Department. The Swedish Transport Agency
Previous: Aerospace Technology
The Swedish Aviation Group attended the Aerospace Technology Congress 2016 on October 11-12. It was a successful and well-attended event with 300+ national and international participants. The congress was a busy two-days with around 160 Technical Presentations scheduled.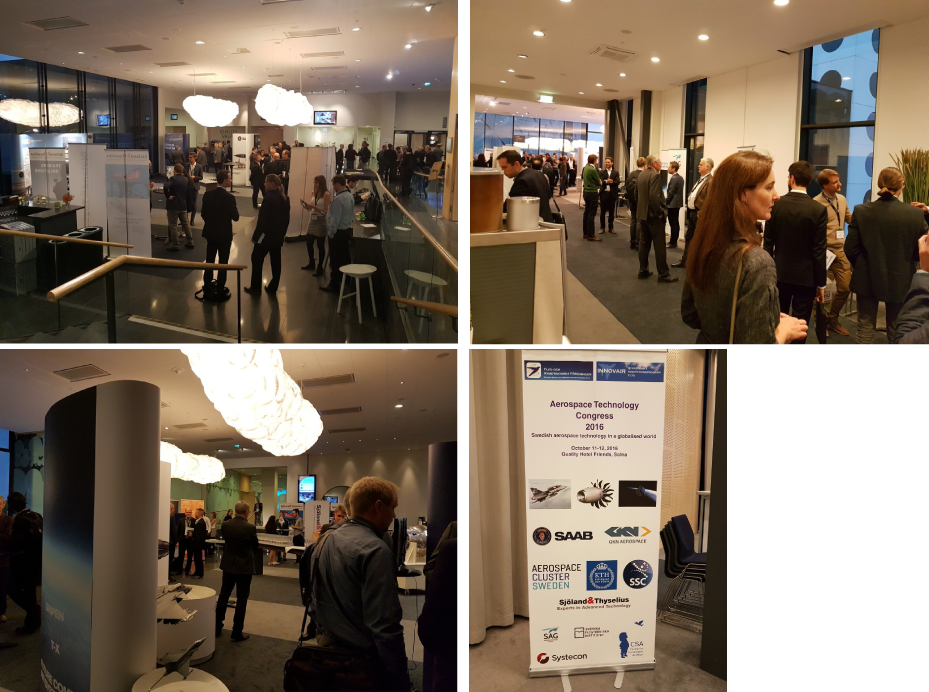 Location
25th floor Quality Hotel Friends Solna Stockholm, Quality Hotel Friends
Date and Time
11th October 2016, 09:00-17:00
Previous: Sustainable Aviation Seminar
The Swedish Aviation Group hosted a successful seminar on 21st October 2015, which focused on airports and airlines sustainable development. The event consisted of 7 short presentations followed by an opportunity to discuss and share attendees feedback.
Location
Sweco HQ, Gjörwellsgatan 22, 112 60 Stockholm
Speakers
Pernilla Morris, Environmental Consultant, Sweco

Pernilla är civilekonom med en masterexamen i Hållbart företagande från Stockholm Resilience Center. De senaste åren har Pernilla jobbat brett inom strategiskt hållbarhetsarbete, bl.a. utvecklade Pernilla verktygen för Riksbyggens arbete med Ekosystemtjänster vilket var en del av motiveringen till utnämningen av "Årets hållbarhetschef 2014". Pernilla har erfarenhet av hållbarhetsfrågor både inom offentlig och privat sektor och hennes drivkraft är att synliggöra de verksamhetsmässiga och samhällsekonomiska vinsterna med ett bra hållbarhetsarbete.

Sigurður  M Harðarson, Environmental Manager, Icelandair

Iceland, with its pure air, clean water and unspoiled countryside, is our home country and our most important destination. One of Iceland's greatest resources is its untamed nature, and we want to keep it that way. That is why environmental issues represent a cause especially close to our hearts at Icelandair.

 
 
Niclas Wikander, Ansvarig hållbar flygtrafiktjänst LFV

LFV kan genom ett aktivt miljöarbete skapa förutsättningar för dem som flyger att minska sin miljöpåverkan. En hållbar flygtrafiktjänst innebär att LFV kontinuerligt analyserar och försöker finna förbättringsområden i systemet, att LFV sätter mål för den indirekta miljöpåverkan och att vi i samarbete med luftfartens aktörer skapar skillnad.

Anette Näs, Funktionsansvarig operativ flygtrafiktjänst, Swedavia

Hållbarhet utgör grunden för Swedavias verksamhet och strategi eftersom vi anser att ett hållbart agerande stärker vår långsiktiga konkurrenskraft och är en förutsättning för flygets framtid.

Mina titlar är dels Projektledare Nytt miljötillstånd för Arlanda och dels Funktionsansvarig operativ flygtrafiktjänst.

 
 
Mikael Henriksson, RTC Specialist Operations, LFV 

Operativt ansvarig för projektet som ledde fram till driftsättning av världens första central för flygtrafikledning på distans på flygplatser 21 April 2015.

LFV påverkar miljön på två sätt – direkt genom vår egen verksamhet samt indirekt genom flygplanens utsläpp till luft och vatten. Den direkta påverkan från vår egen verksamhet består till största delen av förbrukning av energi för att driva våra byggnader och den verksamhet som vi bedriver samt utsläpp från våra tjänsteresor. Den indirekta påverkan genereras när de flygplan vi leder i vår verksamhet släpper ut främst koldioxid. Genom att leda flygplanen så miljösmart som möjligt kan LFV bidra till en minskad miljöpåverkan. RTC skall ses som ett sätt som LFV försöker påverka miljön på ett positivt sätt.

Emma Sandsjö, Kommunikationschef, Braathens Aviation

För oss inom Braathens Aviation är ett aktivt hållbarhetsarbete en självklarhet. Som flygbolag har vi en klimatpåverkan som vi arbetar aktivt med att minska och vi har medvetna kunder som sporrar oss till ständiga förbättringar. Idag är vi är stolta över vårt hållbarhetsarbete där vi också kan visa hur viktigt inrikesflyget är för Sverige.

 
Lars Andersen Resare, Head of Environment and CSR, SAS.

For SAS, sustainable development entails a simultaneous focus on sustainable profitability and financial growth, gradual environmental improvements and social responsibility. SAS is convinced that financially sustainable operations require social and environmental responsibility, and that work on sustainability issues contributes to value growth and competitiveness in a variety of ways.