At the end of December, Sundsvall Timrå Airport in northern Sweden became the country's second airport to have remote air traffic control. At 07.00 on 20 December, the tower was closed down and the air traffic control service was transferred to LFV's control centre. The distance from the tower to the control centre is not very great, only about 100 metres, but nevertheless it is a paradigm and technological shift that the tower is now closed. It has been in use since the airport opened for civil aviation in 1944. "It is extremely gratifying that we now have a second airport with the technology that Saab and LFV have been developing for almost ten years and which is ground breaking for the industry. We have made use of two and a half years' experience from Örnsköldsvik Airport in the work on Sundsvall, but every operating approval from the Swedish Transport Agency and every commissioning is unique to the individual airport," says LFV's Director General Ann Persson Grivas. – "It has been wonderful to see at close hand how the entire project has gone from first idea to commissioning. This has attracted great international interest in the region and has put Sundsvall Timrå Airport on the global map. What LFV has established has had extremely positive spin-offs for the airport and also for Mid Sweden University," says Frank Olofsson, manager of Sundsvall Timrå Airport. In 2015, Örnsköldsvik Airport became Sweden's first airport with remote air traffic control. On 21 April that year, the infrastructure minister at the time, Anna Johansson, declared LFV's control centre in Sundsvall open. LFV's control centre in Sundsvall has the space to operate remote air traffic control for a further three airports. The next to be finished will be Linköping City Airport. For more information, telephone LFV's press service on 011-19 20 50. LFV is Sweden's leading air navigation service provider with associated civil and military aviation services. LFV is also involved in developing the European airspace via joint collaboration in various forms. LFV has extensive experience of offering airline consultancy services in the international market within the air transport sector. With a focus on research and development, LFV offers smart solutions for the flights of the future. LFV is the first in the world with remote air traffic control, a brand-new way of managing air traffic, which has attracted significant attention globally. LFV has 1,100 employees and annual sales of SEK 3.4 billion. Facts about remote tower services
LFV together with Saab – first in the world with remote tower services.
Örnsköldsvik Airport – remotely controlled airport since April 21st 2015.
Sundsvall-Timrå Airport and Linköping City Airport is next.
Approx. 4 000 visitors from all over the world at LFV's Remote Tower Centre in Sundsvall.
LFV and Saab have been awarded for the innovative work with remote tower services.
Facts about LFV
LFV is the air traffic controller at 20 airports, from three air traffic control centres in Sweden.
LFV is a partner with GAL, Global Aerospace Logistics, a provider of air navigation services in the United Arab Emirates.
LFV has over 70 years of experience and knowledge with air traffic navigation services and aviation security.  30 years of experience with business transactions in over 50 countries.
LFV is a state-owned enterprise.
762,000 flight movements in Swedish airspace 2017.
99.9 percent punctuality.
100 percent of flight safety goals achieved.
Since 21 April 2015, LFV has provided remote air traffic control at its Remote Tower Centre in Sundsvall. With around 4,000 recorded operational hours, LFV has acquired a unique experience that airports around the world can benefit from.
"LFV realised its vision in cooperation with Saab. LFV is not only the sole provider of active Remote Tower Services at present; we are also the only actor with operational approval. RTS has allowed us to make aviation history and show that LFV is an innovator and is at the forefront of Remote Tower Services," says LFV Director-General Olle Sundin. Örnsköldsvik Airport became the world's first airport to feature Remote Tower Services. Sundsvall Timrå Airport will become the second in the autumn of 2016, and the following spring will see Linköping City Airport connected to the Remote Tower Centre. "After one year with RTS I can conclude that the Remote Tower Services have worked exactly as expected. That is to say, that there is no detectable difference since the switchover. Safety and efficiency are as high as they were with conventional air traffic control," says Robert Gyllroth, CEO of Örnsköldsvik Airport. According to LFV's plans the first multiple RTS, will be launched in 2018. That means that one air traffic controller handles two or  more airports. "It will be almost as big a milestone as when Remote Tower Centre was launched," says Olle Sundin. The Remote Tower Centre now has 4 000 of recorded hours of operation. These hours, as well as related experiences, allow LFV to further develop its Remote Tower Services. The airports can utilise the digitisation of RTS to develop and increase the efficiency of their operations not only in air traffic control but in other areas. There is a huge amount of international interest in the Swedish developments and in LFV. In just the first two months of the year, five international delegations have visited Sundsvall. In total, there have been thousands of visitors from around 50 countries. "There was a lot of interest before we had even launched the Centre, but we can see a clear increase after last year's World ATM in Madrid and the launch on 21 April 2015," says Olle Sundin. Today, 8 March, whilst attending the World ATM Conference in Madrid, LFV proudly proclaims "One Year in Operation" for the Remote Tower Centre in Sundsvall. It will also include a live broadcast from the RTC.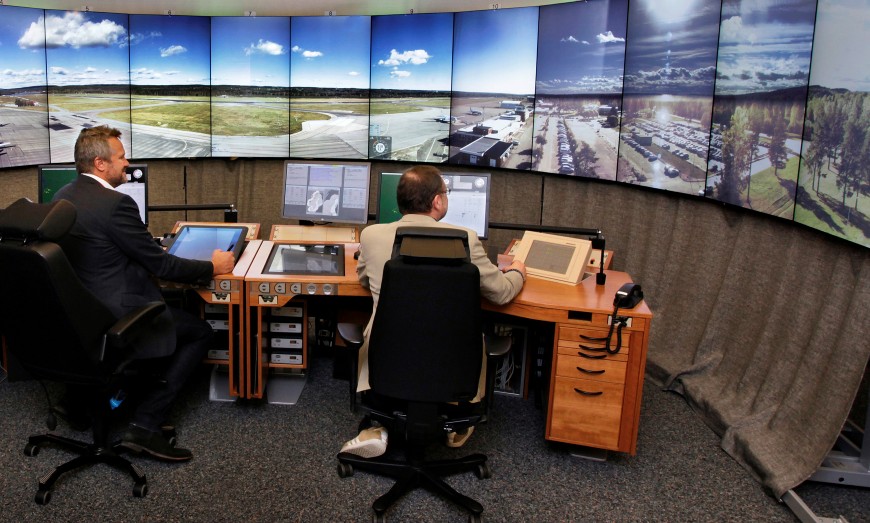 This website uses cookies to enhance your experience and functionality. By continuing to use this site, you accept our use of cookies. Learn more