The investigation, made by LFV, after the radar disruptions that affected parts of Sweden's air traffic on 4 November 2015, shows that the disruptions were due to radio emissions linked to a solar flare. This is the conclusion from the investigation conducted by LFV after the event. On Wednesday 4 November 2015, at around 16:00 hours, air traffic control centres in Stockholm and Malmö noticed the first indication that LFV radar stations were not relaying the correct data to air traffic control. The cause was rapidly identified and measures taken. "When the disturbance occurred, those of our air traffic controllers who were unable to use the information on their radar screens, changed over to a different way of managing the aircraft," says Ulf Thibblin, Technical Director, LFV. To LFV, safety is our main priority. If safety for different reasons, bad weather or technical disruptions, could not be guaranteed, the number of air traffic is being reduced. In recent days, there has been discussions that the interference were not related to space weather, but that it instead was due to a cyber attack against Sweden. "Early on in our investigation we had this as one of other hypothesis.  But there was nothing in our radardata- or Internet traffic logs to support or confirm a possible cyber attack. Also, we had the relationship in time with space weather, plus there were a few more technical reasons which excluded a cyber attack, says Ulf Thibblin." After affected radar stations had been restarted, LFV's air traffic controllers received correct radar presentation 45 minutes after the disruption had begun and after an additional 45 minutes there was full capacity in the airspace. Over the past 17 years, LFV radar stations have only been affected by similar problems twice, in 1999 and 2003. The disturbances both then and now took place at sunset, when the angle of the sun goes – for the most part – directly into the radar stations. According to experts, it is possible to predict a solar flare but not its consequences, for example radio emissions. As the disturbance is carried from the sun to the earth at the speed of light, it is also impossible to receive prior warning of an established outburst. LFV's radar stations around Sweden are continually upgraded and will remain in use. However now they will be supplemented with a new type of radar known as Wide Area Multilateration, WAM, which means the robustness will increase significantly. In 2015 LFV carried out successful efforts to increase efficiency. This allowed Sweden's route charge to be lowered for the fourth year in a row on 1 January 2016. The reduction was 4.6%. "In 2015, LFV has managed to generate profits while helping lower the charges for en-route operations. This proves that our work with changes and increased efficiency has succeeded," says LFV Director General Olle Sundin. LFV's turnover in 2015 was SEK 3.4 billion and the result after income and expenses was SEK 39 million. The large increase in turnover between 2014 and 2015 is explained by low interest rates, which have significantly increased the pension debt and thus the turnover. The number of aircraft movements in Swedish airspace increased by just over 1%, totalling 712,000. The only year with more movements in the last decade was 2008. Overflight traffic, with no take-off or landing in Sweden, makes up around 40% of the total traffic. 2015 was also the year when LFV made history by introducing its Remote Tower Services. After ten years of development, the Remote Tower Centre in Sundsvall was opened on 21 April. Since then, traffic at Örnsköldsvik Airport has been handled from Sundsvall. "LFV has made Swedish history with our Remote Tower Services, and we are now bringing our product to the rest of Sweden and the world," says Olle Sundin. Next in line are Sundsvall Timrå Airport and Linköping City Airport. In the past year, LFV established a Norwegian airline, LFV Norway A/S, in order to meet the Norwegian deregulation of local air traffic services. LFV has delivered very reliably throughout the year. 99.9 per cent of all flights en route in Swedish airspace take place without any delays caused by the air navigation service. In 2015 LFV published a drone map, a service which quickly became very popular among drone flyers. The drone map allows a person to use their phone to check their position in relation to the airports' control zones. Within the COOPANS alliance, where LFV is one of five partners, there were several upgrades to the air traffic control system TopSky to increase efficiency in air traffic control. Swedish Aviation Group welcomes  ClearPoint into the fold! ClearPoint's mission is to be the independent link between the business and the supplier by making complex choices in technology and services easier and clearer for our clients. Our team have extensive experience in national as well as international work for large organizations, primarily in aviation, public sector and telecom.

LFV received a SES Award for Remote Tower Services, the first operational approved remote tower service in the world, at World ATM Congress 2016 in Madrid this week. – It is with great pride and joy that we recieve this award. Remote Tower Services will change the conditions for air traffic services. The award encourages us to continue our development towards a more efficient and smarter air traffic in Europe, says LFV's Director General Mr Olle Sundin.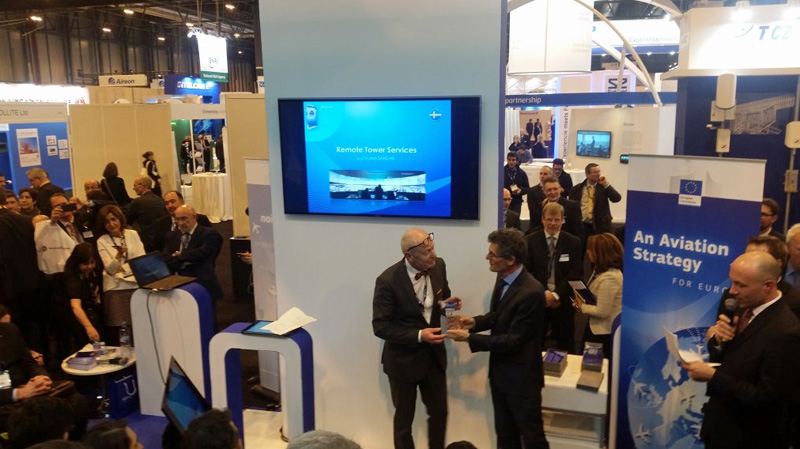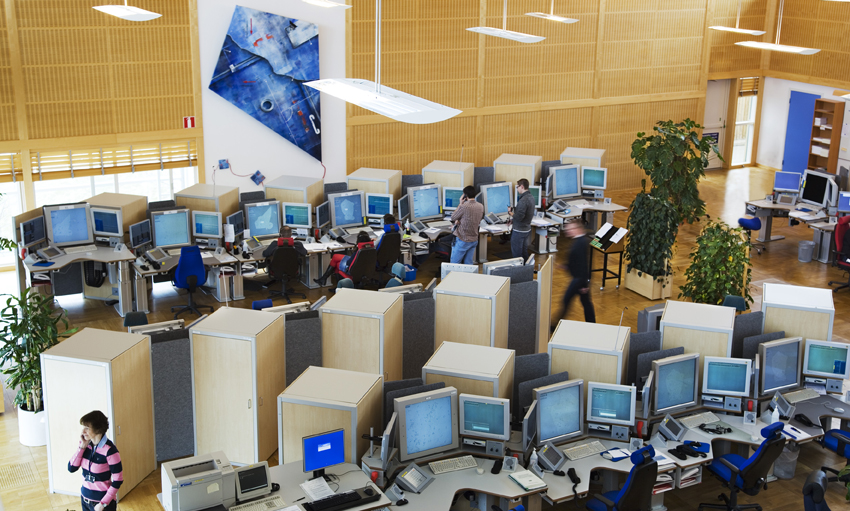 LFV Air Traffic Control Center, Malmö, Sweden.
Every year LFV awards an incentive scholarship to a student or employee at Linköping University. In 2015 it was awarded to Åsa Svensson.
Last year Åsa Svensson worked on developing a method for collecting operative data with the help of eye tracking, meaning that eye movements are recorded and then analysed at different levels of detail. "This is the first time that the incentive scholarship is given to a PhD student.  Åsa's work has contributed significantly to the development of an innovative method with great potential, so the scholarship is well deserved," says Ulf Thibblin, Director, System and Development at LFV. "It's really interesting to work with LFV and there is great potential for developing the design of the work environment as well as training. We have worked with overflight traffic, arriving flights and the tower environment," says Åsa. LFV operates air traffic services at 23 airports and two control centres. LFV's 800 air traffic controllers handle around 2,000 flights every day and are responsible for the safety and efficiency of each flight. Advanced system support, including radar installations and air traffic controllers' display screens, is required to maintain everyday operations. Many of LFV's 120 engineers work in this area.  LFV also conducts research and development into the future of air traffic management services. This is carried out in collaboration with the university as well as in several European cooperation Projects. "Flight is global, technically advanced and exciting. This makes LFV a very interesting place to work at for talented students, researchers and engineers," says Ulf Thibblin. For more information please contact the LFV press service on +46 11 19 20 50. Information about LFV • LFV offers air traffic management, air traffic services and related services, both nationally and internationally. • LFV is involved in developing European airspace through its cooperation in various alliances and organisations. •LFV is developing new services and operational concepts in order to meet the ever greater requirements for capacity, accessibility and sustainability. • LFV was first in the world to introduce operational approval for remotely operated air traffic control. Since April 2015, LFV employees in Sundsvall have been controlling air traffic at Örnsköldsvik Airport. • LFV has 1,200 employees and has an annual turnover of SEK 2.6 billion.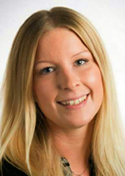 Åsa Svensson.

We at Swedish Aviation Group wishes all of you a great and successful 2016! 🙂 See you all at our next conference 2016. More information coming soon.
Welcome Wrap International!
Swedish Aviation Group continues to grow with its latest member, Wrap International! WRAP International provides a comprehensive portfolio of expert consulting and software products for Radio Network Planning and Optimisation as well as Spectrum Management. The WRAP software provides efficient frequency management and radio network planning support for organisations ranging from telecommunication authorities to network planners.Tuesday 24th of November was the official start of the LFV's Norwegian subsidiary, LFV Norway A / S, when LFV invited to mingle in Oslo. Some 40 guests from the Norwegian airline industry was in place and mingled and listened to inspiring talk on the theme of change in ATM. The Air Navigation Services Provider of Sweden (LFV) is very interested in the Norwegian market for local air traffic services. Therefore, LFV established a Norwegian company, LFV Norway A/S, during the autumn.  "At a time when the Norwegian market for local air traffic services is being deregulated, LFV wants to be a presence. By establishing a company, we are showing that our investment in Norway is serious, which will facilitates our entry into the Norwegian market," says Niclas Gustavsson, Director of Business Development at LFV.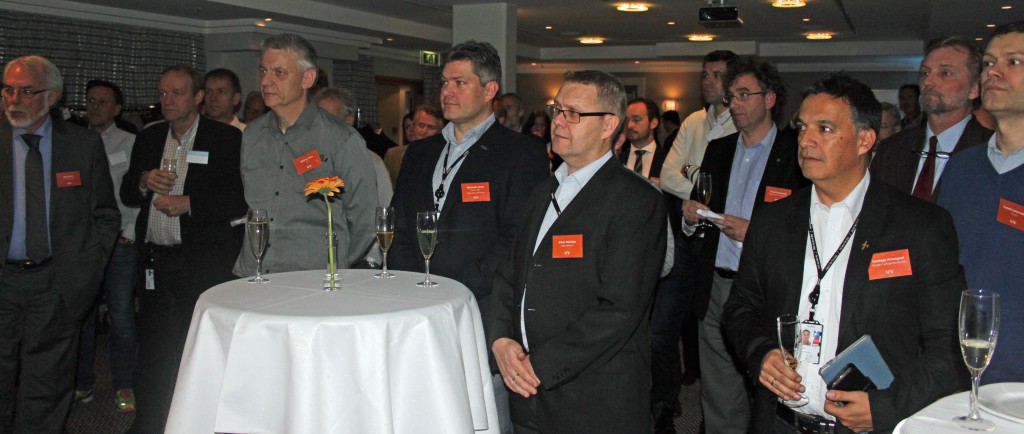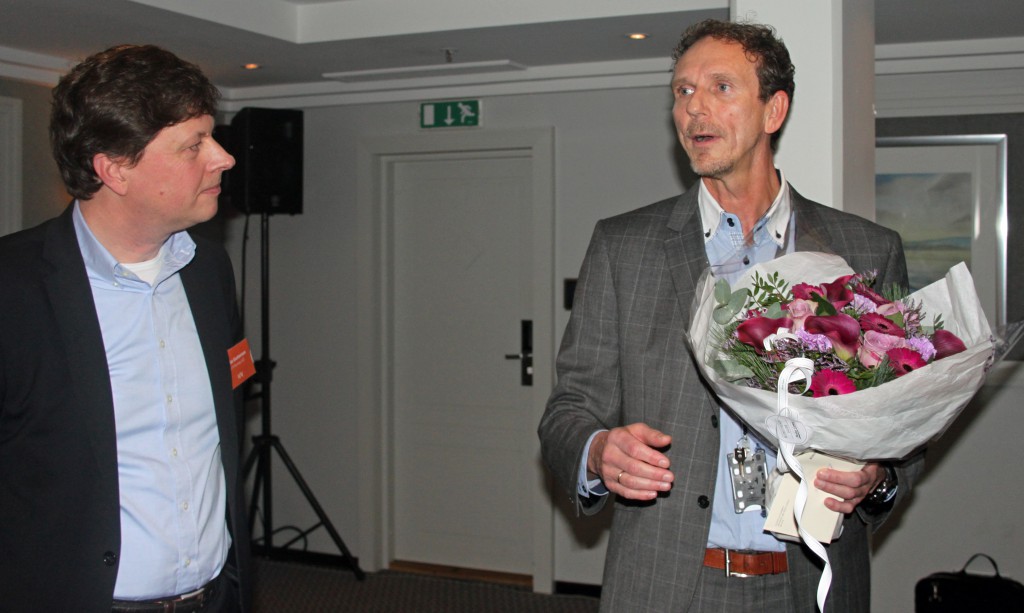 Niclas Gustavsson, LFV, and Anders Kirsebom, Avinor.  
Success story!
With over 45 attendees and 7 speakers we can conclude that SAG´s first seminar was a huge success! Ideas on how we can improve and engage in sustainable aviation spread like wild fire and further talks on how to improve the development in sustainable aviation amongst the attendees and SAG members flourished during and inbetween the speakers presentations. The speakers spoke about Green landings, Remote Control Tower development, Environmental certificates, Airlines current and future environmental challenges, the environmental gains from using of LEAN in the Cabin and much much more. The response from the attendees were overwhelmingly positive and SAG is already planning an event to come back to next year! We would like to all who attend and especially the speakers and Sweco for hosting the venue at their HQ in Stockholm! Read more about the event here. See you all in 2016 at the next SAG event!

This website uses cookies to enhance your experience and functionality. By continuing to use this site, you accept our use of cookies. Learn more