Following a competitive tender process, launched in September 2020, Avinor Air Navigation Services have issued a Frame Agreement to the technology consultancy company Combitech, part of the defence and security group Saab AB, as exclusive supplier of AWOS Software and related services.
The contract enables Avinor Air Navigation Services to upgrade AWOS-systems for all Norwegian airports through acquisition of software licenses, training and professional services from Combitech during the forthcoming four years with an option to prolong the agreement for additional three years.
"The choice of Combitech AWOS provides further evidence that Combitech AWOS is a highly capable system that provides Airports with a flexible and future proofed system with competitive Life Cycle Cost", says Per Råhnängen, Head of ATM Services at Combitech AB.
AWOS has a modern system architecture that can easily be integrated with any type of weather sensor that the Airports may request.
Combitech AWOS is used by the vast majority of Swedish Airports along with several regional Airports around the world.
Original Article Source: Combitech
Since 15 February, SAG member, LFV has been providing new technical services to air navigation service providers in Iceland (Isavia) and Denmark (Naviair). These services streamline their production of flight information and are the result of successful Nordic cooperation.
"This is a great success for us. We have created a service that lives up to the regulatory requirements from the EU and we have taken the initiative for a collaboration with our Nordic colleagues which resulted in this unique offer of a solution that includes both technology, maintenance, training and support", says LFV's CEO Ann Persson Grivas.
The EU requires air navigation service providers to share costs and risks with each other. LFV has realized the goal through a modern system architecture and coordination between several different stakeholders. The Italian company IDS (Ingegneria Dei Sistemi) has developed the software which LFV then develops and resells according to the established business model SaaS – Software as a Service.
Facts about L-CAPS
L-CAPS stands for LFV Comprehensive AIM Production Service and contains functionality for NOTAM, Pre-flight briefing for AIS and MET, AIP, map production, flight plan management, design of flight procedures.
The business model with technical service, training and support, which is in line with future European development of service deliveries. Named SaaS = Software as a Service.
Modern and cyber-secure infrastructure and system architecture that is repetitive, scalable and space-bound.
Was noticed in 2019 by the European Commission with a special mention for the realization of Single European Sky.
If you fly around the earth at our latitudes, you are in the airspace where L-CAPS is used just over a quarter of the time.
Original article source: LFV
Air traffic in Swedish airspace decreased by 57 percent in 2020 as a direct result of the pandemic. The number of flights last year was 332,000, compared with 774,000 in 2019.
"2020 was the year that no one could have imagined. At the beginning of March, the first signals came that a pandemic had begun to take hold in Sweden and then the consequences of that followed one after another. The pandemic had dramatic consequences for travel in general and aviation in particular", says LFV's CEO Ann Persson Grivas.
During a normal year, LFV handles around 750,000 flight movements in Swedish airspace, which means just over 60,000 movements per month. We divide air traffic into three different categories: domestic, foreign and air pilots. The latter category involves flights that neither take off nor land in Sweden. In 2020, domestic traffic decreased by 51 percent, international traffic by 64 percent and overflight pilots by 57 percent.
2020 began with a relatively small decline in the first two months, which was in line with developments at the end of 2019. From mid-March, the pandemic began to hit Europe, which had immediate and major consequences for European air traffic. Borders were closed and air traffic declined rapidly. Air traffic volumes were at their lowest in April, when the level was just over 15 per cent of 2019. Thereafter, traffic recovered somewhat and since the turn of the year, 2020 has been at a level between 30 and 35 per cent compared with 2019.
"It is difficult to know when travel and aviation have recovered and how the industry as a whole will be affected by the pandemic in the long term", says Ann Persson Grivas.
Of course, the 2020 sharp reduction in the number of airspace movements had consequences for LFV's finances. The total result after the revaluation of the pension liability was SEK -122 million. Higher aviation revenues due to higher pension costs due to technical revaluation of the pension liability, lower other operating income, lower external costs and higher personnel costs are the main differences compared with the previous year. Lower revenues in relation to our costs have meant a worse result compared with the previous year.
Original article source:LFV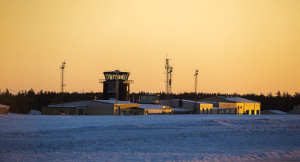 LFV and Vattenfall are now initiating a research collaboration that involves further steps towards a fossil-free transport sector. The starting point will be the new research arena LARC (LFV Aviation Research Center) at the airport in Örnsköldsvik, where solutions for fossil-free airports will be developed and be able to function as a template for other airports.
The research collaboration is the result of a Letter of Intent between LFV and Vattenfall, which involves research and development for the transition to a sustainable flight and to jointly develop a comprehensive solution for what a fossil-free airport should look like.
The letter of intent with Vattenfall is an initiative that is in line with LFV's establishment of LARC in Örnsköldsvik, a new collaboration arena for industry, academia and society. All within the framework of unmanned aviation, electric aviation, airspace issues and airport operations. In close collaborations like this, we create opportunities to develop and validate new solutions for increased safety, cost efficiency and reduced climate impact, says LFV's acting research director Gunnar Olsson.
Together with LFV, we want to find solutions and install charging infrastructure so that it will be possible to completely switch to electric vehicles – to, from and within the airport area and in the long term also for electric aircraft. Other solutions can be the installation of photovoltaic systems and battery storage that provides fast access to electricity when the customer needs it, says Maria Lindberg, head of Vattenfall Network Solutions in Sweden.
New solutions are being developed
In LFV's and Vattenfall's collaboration, these include new solutions for:
Refueling of vehicles (charging with electricity and / or battery replacement).
Transport within the airport area (buses, cars, aircraft, tugs, tractors and other ground transport vehicles).
Micro-producing infrastructure such as photovoltaic systems.
Uninterruptible power through, for example, redundant systems and their ancillary services.
A plan is now being developed where goals, forms and time horizons for the collaboration are concretized by, among other things, enabling regional flights at distances from 400 km and more.
The solution for a fossil-free airport in Örnsköldsvik will then be able to function as a template for more airports. The next step is to examine export markets with associated structures and strategies for fossil-free airports.
Read the full news story here >
In the joint research project Advanced Autoplanner, LFV and IBM are investigating the possibility of using AI (Artificial Intelligence) for increased automation of more complex tasks in air traffic control.
A first proof-of-concept by the means of a model that provides air traffic control instructions in a Swedish Enroute sector, where it separates aircraft in an efficient and safe way, has now been developed.
The ambition is to get funding for a continuation project in the next step in order to be able to take in more of the complex conditions that exist in air traffic management, such as climbing and descending traffic and different wind conditions.
The challenges that exist in the project are primarily linked to traceability in the Artificial Intelligence's decision-making process, we need to understand why it makes the choices it does, the human-machine interaction, safety evidence, that there are infinate traffic scenarios to potentially train on, weather, cost and redundancy, says Sofia Rydell, LFV's project manager for the research project Advanced Autoplanner.
Additional areas of development lies within the user interface for the air traffic controller. In the interface, there will be recommended instructions – which come from AI – and intended time for the implementation by the air traffic controller. The plan is now to carry out manned simulations in a research simulator where the air traffic controller provides the clearances that the model proposes.
The current project will run for another two months. The expectation is to be able to carry out the continuation project in 2021. The project has been financed by the Swedish Transport Administration.
This film presents how Advanced Autoplanner works:
Article Source: LFV
At the end of October, Nordic MRO launched their new website, as a part of their new IT and marketing strategy. Unlike many other companies in aviation, they have decided to use the slow market to develop their company across all borders.
"The launch of the new website is only a fraction of what we are doing," says CEO Lisa Hällbrink. "However, it represents a lot, from our strong focus on IT and digitalization, to our approach of talking to both customers and employees. We hope that the new website does not only show a more modern and value driven organization to our customers, but also to our future talents."
As with the website, the Nordic MRO LinkedIn page follows in the same direction. The content is broad, but with an optimistic view on the future that is aimed at enabling and connecting with customers. The change has mainly been appreciated, but it has not been without critique.
"There has been questioning whether it was a good idea to launch a digital communications strategy at this point. I have been told that during times of crisis it is better to keep a low profile and focus on the core business, but I simply do not agree. We are using these unprecedented times to develop our company into its full potential. One does not back their way out of a crisis, but rather by pushing through and change what needs to be changed. For us, our marketing was one thing that needed to change, and right now digital marketing is the absolute right strategy. The IT structure and employee management are two other focus areas, in which we believe aviation in general has a lot to learn from other industries," says AM and co-owner Kjell Andersson.
The IT and sustainability strategies are two of the most important development areas for Nordic MRO. The IT is focused on adapting the business and its procedures to a digital era, whilst the sustainability focuses on all three aspects of sustainable development (environmental, social, and economic) where environment care and employee management are cornerstones in the development.
The initiatives are driven by Lisa Hällbrink together with the system developer Victor Andersson and operations developer Jenny Almgren.
You can find the Nordic MRO website here, and the Nordic MRO LinkedIn page here.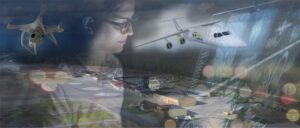 The EDIS research project – electric aircraft and drones in the service of the community – will show the possibilities of using drones and electric aircraft to improve the conditions for community service and transport in areas with large distances and limited access to critical social functions. The project is run by LFV, Katla Aero, Flypulse, Guideline Geo and Luleå University of Technology and is funded by the Swedish Transport Administration.
– The project will show how new drone technology can be used to achieve a more sustainable and efficient aviation business and show the benefit primarily in sparsely populated regions. This in turn generates more knowledge for the Swedish Transport Administration, LFV, the Swedish Transport Agency and other actors, and in extension to the entire community. EDIS is driving development and legislation, which is essential for a faster transition to a fossil-free vehicle fleet, says Björn Wahlström, LFV's research manager.
In industries such as forestry and power supply, interest in collaboration with the new technology has increased.
Research center at Örnsköldsvik Airport
In January 2021, LFV's new test and demonstration facility LFV Aviation Research Center (LARC) will be completed at Örnsköldsvik Airport. Discussions are also ongoing with the municipalities of Åsele and Storuman about becoming part of the LARC cluster. It gives the research operations a geographically dispersed test and validation arena based in Örnsköldsvik and satellite sites in Åsele and Storuman.
It will provide opportunities for collaboration between industry, academia and society in the areas of airport operations, electric aviation and airspace issues and has a planning horizon of at least ten years. In the fall of 2019, LARC was used for demonstration of autonomous ground vehicles as part of the work on the vision of the autonomous airport.
Funded by the Swedish Transport Administration
The EDIS project is funded by the Swedish Transport Administration and is the first to use the LFV Aviation Research Center as the home arena for a project in electric aviation. For upcoming demonstrations in a real environment, collaborations are also initiated with Åsele municipality and Storuman municipality. Since the project is based on electric powered aircraft and drones, it also contributes to reduced climate impact. The project will also identify the requirements that unmanned aviation will impose on airspace and air traffic management.
Emergency services and surveillance in sparse areas mean long distances. Here, drones have the potential to contribute to a large number of different functions. Together with general issues related to airspace, security, communication and remote control, these functions are the focus of the EDIS project. The results will serve as a catalyst for other projects in the areas of automation (execution of programmed tasks), remote control and electric aviation for the future.
– Within the EDIS project, we have gathered Swedish excellence in relevant areas to demonstrate opportunities for improved community service for people in sparsely populated areas who want to feel secure in the environment in which they are located. The hospitality industry will also be able to benefit from the technology that we will showcase. The technology differs significantly from other ongoing drone projects, including the use of machines with potential for speeds of 250 km / h and over 10 km range, says Björn Wahlström.
Article Source: LFV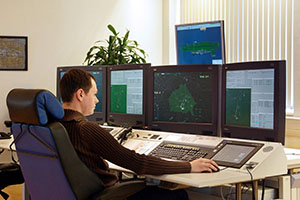 ATTRACC is an operational ATM (Air Traffic Management) system first delivered to Riga, Latvia by Si ATM twenty years ago. In order to keep up with evolving recommendations and regulations and to reflect the changing environment of ATM, it has been modernised several times since its launch.
One part of the process was implementing the CPDLC (Controller Pilot Data Link Communication) in 2015. This system was fully reflective of the EC regulations as well as the EUROCONTROL and ICAO specifications on data link services. Since then, the CPDLC system has been thoroughly tested and adapted to achieve pre-determined performance levels. Throughout this period, the ATM system and CPDLC integration had to be established and assessed because of the considerable upgrading.
The CPDLC service became operational in November 2019 and has been operating successfully for the Latvian air traffic service provider, Latvijas Gaisa Satiksme (LGS) with all data link services available including DLIC, ACM, ACL, AMC, DCL and DSC. The ongoing objective is to support LGS by monitoring performance levels and effectiveness of functionality and ensuring that all benefits expected of CPDLC are met.
Article Source: Si ATM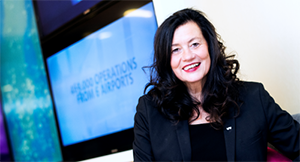 Eltel Aviation & Security area provides technical operations and maintenance services to air traffic control centers and airports as well as government agencies and companies in Sweden. A letter of intent was signed by LFV and Eltel in June 2019 with the acquisition now being completed.
LFV's Director General Ann Persson Grivas stated "The acquisition of Eltel Aviation & Security Area is important for the operation and support of our operating systems so that we can deliver an efficient, safe and environmentally adapted air traffic service. The business will be conducted in a wholly-owned subsidiary of the LFV business enterprise group. The company will continue to be an important player in the market. With the acquisition, we get many new and competent employees who help to develop both our business and the assignments that are delivered to other customers".
After some initial assessments, based on new security protection law as well as LFV's sourcing strategy LFV decided that what Eltel Aviation & Security Area delivers should be conducted under its control. This acquisition enables the continued delivery of services to current and future customers.
"Over the years we have successfully developed Aviation & Security in Sweden. Since LFV is Eltel's largest customer in the aviation and security business area, divestment of the entire business area is the best and most effective solution for everyone involved, including employees, customers and other stakeholders", says Casimir Lindholm, President and CEO of Eltel.
Following the acquisition, the aviation and security business area will become a wholly-owned subsidiary that is part of LFV Holding AB.
Facts about Eltel's Aviation & Security business area
The aviation and security business area provides technical operations and maintenance services to air traffic control centers, airports, government agencies and companies in Sweden. The business area employs approximately 200 employees and has sales of approximately SEK 300 million in 2019.
Article Source: LFV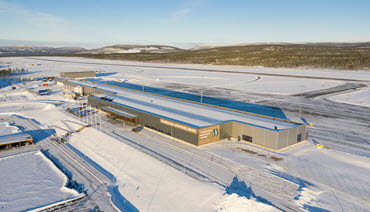 In December, a member of the Swedish Aviation Group, LFV, was part of the inauguration of Sweden's first new airport in 20 years, Scandinavian Mountain Airport in Sälen. This will make Sweden's largest skiing region more accessible to tourists. SDATS, a joint venture by LFV and Saab, will supply remoter tower services, RTS, to the airport.
"We congratulate the airport, its owners and the region on having Sweden's newest airport. They have invested in a modern airport that will create opportunities for more people to experience the mountains of Sälen and Trysil. Establishing a new airport is a major undertaking, but here we see the result – an airport with smart solutions – of efficient and close collaboration between all the stakeholders. Thanks to all who have contributed to our deliveries" says Ann Persson Grivas, Director General of LFV.
LFV has supplied the airport with infrastructure while SDATS, Saab Digital Air Traffic Solutions, will establish air traffic management. Scandinavian Mountains Airport will be remotely controlled from SDATS' control centre in Sundsvall.
"The airport will be the fourth in Sweden to be controlled from the control centre in Sundsvall. This is an airport dominated by charter flights, and it will initially receive traffic three days a week. We deliver a new concept, 'RTS on demand', which allows the airport to choose for itself when and to what extent it needs our services," says Per Ahl, CEO of SDATS.
"Digitisation of air traffic control is a concept that is spreading across the world. Germany, the United Kingdom and Norway have all got on board after Sweden. This way of making air traffic services more efficient has generated a great deal of interest throughout the airline industry," Per Ahl notes.
Article Source: LFV
This website uses cookies to enhance your experience and functionality. By continuing to use this site, you accept our use of cookies. Learn more