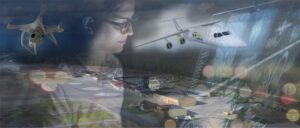 The EDIS research project – electric aircraft and drones in the service of the community – will show the possibilities of using drones and electric aircraft to improve the conditions for community service and transport in areas with large distances and limited access to critical social functions. The project is run by LFV, Katla Aero, Flypulse, Guideline Geo and Luleå University of Technology and is funded by the Swedish Transport Administration.
– The project will show how new drone technology can be used to achieve a more sustainable and efficient aviation business and show the benefit primarily in sparsely populated regions. This in turn generates more knowledge for the Swedish Transport Administration, LFV, the Swedish Transport Agency and other actors, and in extension to the entire community. EDIS is driving development and legislation, which is essential for a faster transition to a fossil-free vehicle fleet, says Björn Wahlström, LFV's research manager.
In industries such as forestry and power supply, interest in collaboration with the new technology has increased.
Research center at Örnsköldsvik Airport
In January 2021, LFV's new test and demonstration facility LFV Aviation Research Center (LARC) will be completed at Örnsköldsvik Airport. Discussions are also ongoing with the municipalities of Åsele and Storuman about becoming part of the LARC cluster. It gives the research operations a geographically dispersed test and validation arena based in Örnsköldsvik and satellite sites in Åsele and Storuman.
It will provide opportunities for collaboration between industry, academia and society in the areas of airport operations, electric aviation and airspace issues and has a planning horizon of at least ten years. In the fall of 2019, LARC was used for demonstration of autonomous ground vehicles as part of the work on the vision of the autonomous airport.
Funded by the Swedish Transport Administration
The EDIS project is funded by the Swedish Transport Administration and is the first to use the LFV Aviation Research Center as the home arena for a project in electric aviation. For upcoming demonstrations in a real environment, collaborations are also initiated with Åsele municipality and Storuman municipality. Since the project is based on electric powered aircraft and drones, it also contributes to reduced climate impact. The project will also identify the requirements that unmanned aviation will impose on airspace and air traffic management.
Emergency services and surveillance in sparse areas mean long distances. Here, drones have the potential to contribute to a large number of different functions. Together with general issues related to airspace, security, communication and remote control, these functions are the focus of the EDIS project. The results will serve as a catalyst for other projects in the areas of automation (execution of programmed tasks), remote control and electric aviation for the future.
– Within the EDIS project, we have gathered Swedish excellence in relevant areas to demonstrate opportunities for improved community service for people in sparsely populated areas who want to feel secure in the environment in which they are located. The hospitality industry will also be able to benefit from the technology that we will showcase. The technology differs significantly from other ongoing drone projects, including the use of machines with potential for speeds of 250 km / h and over 10 km range, says Björn Wahlström.
Article Source: LFV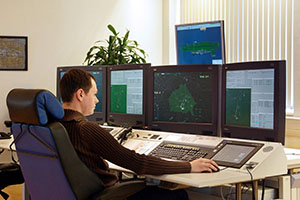 ATTRACC is an operational ATM (Air Traffic Management) system first delivered to Riga, Latvia by Si ATM twenty years ago. In order to keep up with evolving recommendations and regulations and to reflect the changing environment of ATM, it has been modernised several times since its launch.
One part of the process was implementing the CPDLC (Controller Pilot Data Link Communication) in 2015. This system was fully reflective of the EC regulations as well as the EUROCONTROL and ICAO specifications on data link services. Since then, the CPDLC system has been thoroughly tested and adapted to achieve pre-determined performance levels. Throughout this period, the ATM system and CPDLC integration had to be established and assessed because of the considerable upgrading.
The CPDLC service became operational in November 2019 and has been operating successfully for the Latvian air traffic service provider, Latvijas Gaisa Satiksme (LGS) with all data link services available including DLIC, ACM, ACL, AMC, DCL and DSC. The ongoing objective is to support LGS by monitoring performance levels and effectiveness of functionality and ensuring that all benefits expected of CPDLC are met.
Article Source: Si ATM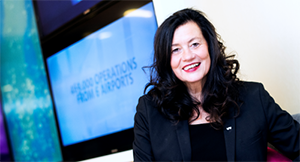 Eltel Aviation & Security area provides technical operations and maintenance services to air traffic control centers and airports as well as government agencies and companies in Sweden. A letter of intent was signed by LFV and Eltel in June 2019 with the acquisition now being completed.
LFV's Director General Ann Persson Grivas stated "The acquisition of Eltel Aviation & Security Area is important for the operation and support of our operating systems so that we can deliver an efficient, safe and environmentally adapted air traffic service. The business will be conducted in a wholly-owned subsidiary of the LFV business enterprise group. The company will continue to be an important player in the market. With the acquisition, we get many new and competent employees who help to develop both our business and the assignments that are delivered to other customers".
After some initial assessments, based on new security protection law as well as LFV's sourcing strategy LFV decided that what Eltel Aviation & Security Area delivers should be conducted under its control. This acquisition enables the continued delivery of services to current and future customers.
"Over the years we have successfully developed Aviation & Security in Sweden. Since LFV is Eltel's largest customer in the aviation and security business area, divestment of the entire business area is the best and most effective solution for everyone involved, including employees, customers and other stakeholders", says Casimir Lindholm, President and CEO of Eltel.
Following the acquisition, the aviation and security business area will become a wholly-owned subsidiary that is part of LFV Holding AB.
Facts about Eltel's Aviation & Security business area
The aviation and security business area provides technical operations and maintenance services to air traffic control centers, airports, government agencies and companies in Sweden. The business area employs approximately 200 employees and has sales of approximately SEK 300 million in 2019.
Article Source: LFV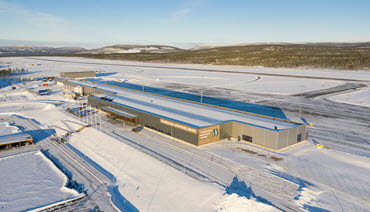 In December, a member of the Swedish Aviation Group, LFV, was part of the inauguration of Sweden's first new airport in 20 years, Scandinavian Mountain Airport in Sälen. This will make Sweden's largest skiing region more accessible to tourists. SDATS, a joint venture by LFV and Saab, will supply remoter tower services, RTS, to the airport.
"We congratulate the airport, its owners and the region on having Sweden's newest airport. They have invested in a modern airport that will create opportunities for more people to experience the mountains of Sälen and Trysil. Establishing a new airport is a major undertaking, but here we see the result – an airport with smart solutions – of efficient and close collaboration between all the stakeholders. Thanks to all who have contributed to our deliveries" says Ann Persson Grivas, Director General of LFV.
LFV has supplied the airport with infrastructure while SDATS, Saab Digital Air Traffic Solutions, will establish air traffic management. Scandinavian Mountains Airport will be remotely controlled from SDATS' control centre in Sundsvall.
"The airport will be the fourth in Sweden to be controlled from the control centre in Sundsvall. This is an airport dominated by charter flights, and it will initially receive traffic three days a week. We deliver a new concept, 'RTS on demand', which allows the airport to choose for itself when and to what extent it needs our services," says Per Ahl, CEO of SDATS.
"Digitisation of air traffic control is a concept that is spreading across the world. Germany, the United Kingdom and Norway have all got on board after Sweden. This way of making air traffic services more efficient has generated a great deal of interest throughout the airline industry," Per Ahl notes.
Article Source: LFV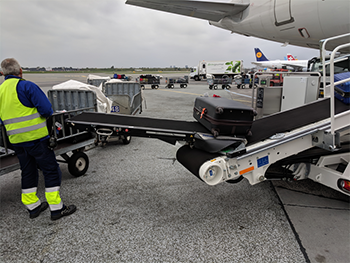 GSE manufacturers are making improvements to equipment to help ground handlers perform their work on the ramp and at the baggage carousel injury free.
Work performed on airport ramps around the world can be difficult and physically taxing. In order to keep ground handlers from suffering injuries, the GSE industry is constantly evolving and creating new equipment to keep users safe. Power Stow and Telair International, along with partners Swissport and AUXIVO are among those advancing GSE designed to protect the people who repeatedly load and unload baggage.
Help Loading the Aircraft
Qantas Airlines was in search of an aid to load and unload their aircraft in combination with their on-board sliding carpet loading system. The airline connected with Telair and the RTT Longreach was subsequently born.
The self-contained, bolt-on extension for belt-loaders allows users to handle baggage and cargo at a comfortable working height, sliding the items off the belt-loader safely.
It can be operated with either a joystick or handle with the use of only one hand, explains Andrew Freeman, manager of U.S. sales and field services at Telair.
"Up/down and inward/outward operation is fully powered and side-to-side movement is manual," he explains, adding the latter function is designed to protect the doorway of the aircraft. "It can be used at the front and back of any diesel or electric belt-loader," he continues. "It has a unique ball tray design at the front, allowing the loader to easily position cargo in the direction needed without heavy lifting."
The RTT Longreach can also completely retract, so that it does not protrude when the belt-loader is being driven on the tarmac. The device, which can be installed by the OEM or by Telair as a retrofit, is used in Australia, Denmark, Sweden, Norway, Dubai, Germany, London, the Netherlands and Singapore by airlines, ground handling companies and airports.
"Being that the RTT is developed in Sweden, and initially designed for Qantas in Australia, we focused on creating a system that works in all climates," Freeman explains, adding it can also be used in the terminal.
Freeman says the RTT Longreach's goal is to create ergonomic cargo loading conditions, to protect users from injury while increasing efficiency. "The RTT takes the heavy lifting out of the equation by allowing the user to manipulate the belt-loader to his or her needs," he says, noting a unit can handle 50 kilos of cargo at a time and 150 kilos when the RTT is in a supported position. "It bridges the gap between the belt-loader and the aircraft, presenting the cargo to the loader – as opposed to having to reach for it."
In addition to user safety, company officials say the equipment can speed up operations. It can mitigate aircraft damage as the RTT is designed to extend into the cargo compartment, allowing the belt-loader to be positioned further away from the aircraft. Likewise, it offers a level of protection to the cargo.
"The belt has also been widened to better accommodate wide body loading as the angle greatly changes due to the height difference of the belt-loader and wide body aircraft," Freeman says. Jan 13th, 2020
View the full article from Aviation Pros here >
The board of SAG has decided to create two subgroups in SAG:

Aviation Engineering
& MRO Network

Airport Design
& Infrastructure Network

The purpose of the Aviation Engineering & MRO Network is to focus on companies working with technical aspects in the aviation industry. Obvious companies are those working with production, maintenance and overhaul of aircraft and engines.

By creating this network SAG is covering the whole aspect of the aviation industry in Sweden. By that we can welcome new members in this group of companies and we can offer a broader range of products to the Aviation Industry worldwide.

The Airport Design & Infrastructure Network is covering all aspects of airport development and operation. Obvious companies are those selling products and services such as technical solutions and installations, airport vehicles as well as consultancy services to airports worldwide.

If you would like to know more about SAG membership please visit our membership page here >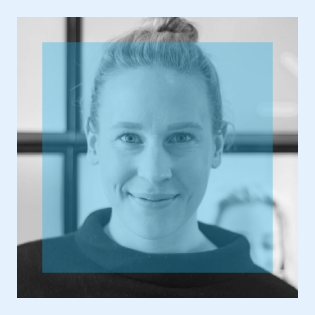 Welcome Lisa, please could you introduce yourself to our readers
My name is Lisa Hällbrink and I am the CEO of Nordic MRO, an independent supplier of one-stop-shop aircraft maintenance, from CAMO to line and base maintenance.
As a quick background, I have a master degree in ecosystem engineering, with a focus on energy systems. I usually describe myself as an energy and environmental engineer who has been retrained as a business developer and strategist.
On the personal side, I live in Helsingborg with my husband. I am a social person who believes in a strong network of contacts and that as an individual you do not need to know everything. It is important to have the right people around you so that together you can find the best way forward. In addition, I am very much driven by having fun and developing, both business, people and myself.
Where are you from?
I have previously worked in the energy industry, including solar PV, focusing around business development and business strategies. I have worked with several different types of customer segments, taking potential business ideas from an early idea stage to a finished product, with sales strategies, training, partnerships, marketing strategies and everything in between. I have experience in business analysis and leadership.
Geographically I come from Blekinge in Sweden, with parents from Småland. So, I usually describe myself as a mixture of southern Sweden who has been integrated into Skåne. However, the Skåne dialect has not been fully established, despite having lived almost 10 years in the region.
How did you get into the airline industry?
In a way, I stumbled upon the opportunity. Kjell Andersson, AM and co-owner of Nordic MRO, and I were previously acquaintances. We had on some occasions discussed managing and developing strategic business issues and business projects. When Nordic MRO was looking for a new CEO Kjell contacted me and asked if I was interested, and there you have it.
At the same time, I have always loved airplanes, so it is no big surprise that I should end up in the aviation industry. My first flight-related dream was when I was eight years old and I wanted to become a pilot, just like my favourite teacher's husband was. When I was 14-15, I had the intention to become a flight technician, air traffic control manager or some kind of aerospace engineer. So, aviation has always been with me, but after studying environmental engineering I thought I probably never would end up here. But to quote my grandmother: "but in that industry there is a lot for you to do" and of course there is truth in that.
How did you get in contact with Swedish Aviation Group, SAG?
Since Nordic MRO was already a member of SAG, the contact path became quite natural. For me, it all started with the fact that Sune, a former colleague to Kjell, came and discussed some questions related to both SAG and the aviation industry in general. It opened the door to more interaction.
What are your thoughts on SAG as a network business facilitator in the international aviation maintenance industry?
Given the network we plan to develop, my hope is that together we will be able to find ways forward and new ways of doing business. Although the industry is under pressure there are many potential partnerships to form, where competition really does not exist and opportunities for joint development are great.
Do you have any thoughts on developments in the industry?
The industry is currently very traditional in how it functions, and I believe a lot will change in the near future. I see the biggest possibilities for positive change within digitalisation, where we will be able to find ways to focus even more of our time on value-creating activities than we do today. With exactly the same workforce we will be able to achieve more and in a better way for our customers and partners, as soon as the right digital support is in place.
Then the environmental issue is an important issue that will fundamentally affect the industry, just as it does with the rest of society. I do not think that aviation will disappear, but there are challenges that we need to address for the future. Not all companies will succeed, but those who do will grow stronger afterwards. Everything is about being able to adapt strategies and business models for the future. It remains to be seen who will be the "aviation's Blockbuster" and who will be Netflix. They both had similar business concepts in the early 00s, but Netflix switched its business to what it is today, while Blockbuster continued to rent out DVD movies. Netflix today has sales of US $15 billion. Blockbuster went bankrupt in 2010. To me, that speaks for itself.
What interests you outside of flight maintenance?
Professionally, there is a lot of interest and motivation within me. I think digitalisation and innovation are very exciting topics. Then I am keen for a little extra focus regarding inclusive leadership. How to create diversity in teams, how to lead people in the way they want to be led, and how to create a good corporate culture. These are issues close to my heart.
Outside of the professional world, I love to exercise. I train a lot, and for me it is a way to disperse thoughts and analyse complex and difficult situations. When it is at its toughest, I usually lace up my jogging shoes and go for a run, just to clear my mind. I also like to include this in the job and have started "walk and talks" with the Nordic MRO team. As you move, you have a tendency to find new ways of thinking and more easily reaching new solutions. Ultimately it is a good way for me to talk to the employees as it creates a more informal and genuine dialogue. Beyond that, of course, I love to travel too!
Thank you Lisa for your time and answers.
For further information on Nordic MRO please visit: https://nordicmro.com/
For the latest Swedish aviation news please visit the news page >>
For the latest SAG events please visit the events page >>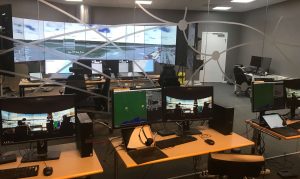 The world's largest Remote Traffic Control (RTC) Center is now complete. Based in Stockholm, LFV's new center will be remotely managing air traffic control for the airports of Kiruna, Östersund, Malmö and Umeå in Sweden.
Utilising advanced cameras on masts at the physical airport locations a team of specialists based in Stockholm can operate air traffic control remotely utilising video feed and integrated monitor solutions as if they were in a traditional tower located at the airport. By pooling resources across the four airports at one geographical location a larger set of skills and expertise is available, sharing costs and therefore improving efficiency. Based at the RTC is also an advanced simulator for training, a prerequisite that is already in place.
LFV has been operating RTC's since 2015 in a world's first scenario with the Örnsköldsvik Airport being run remotely from the Sundsvall RTC center in Sweden. Since then the same RTC has been operating the Sundsvall-Timrå airport, adopting the same system.
The first remotely controlled airport outside of Sweden came in 2018 with Cranfield Airport in the United Kingdom and then Saarbrucken Airport in Germany. Since then further remote airports have been opened in Sweden and Norway.
Article Source: LFV
Automation in aviation and air traffic management can contribute to improved safety, efficiency and sustainability. LFV has, jointly with Linköping University, been conducting research as part of the Automation Program since 2015. Last week, their results were shown to a wider audience in Stockholm.
Examples of automation in aviation include the use of artificial intelligence, AI, in air traffic management for improved safety and endurance, monitoring of movements at airports and of aircraft, risk identification in safety-critical environments and automation for training and skills verification in aviation and maritime transport.
"The collaboration between LFV and Linköping University has produced fantastic results. Together we figure out smart solutions for the aviation of the future," says the LFV Research Director, Björn Wahlström.
The Swedish Transport Administration sponsors the Automation Program and includes several research projects into the future of air traffic management in its portfolio.
"Research and innovation are important tools that enable us to develop solutions that contribute to good accessibility within the framework of a sustainable society. We need to drive applied research forward together so that solutions can be implemented and generate benefits for everyone," says Marie Fridolin, Head of Operations Strategic Development, at the Swedish Transport Administration.
Combitech AB has around 1800 skilled technical consultants. One of the focus areas is within the Aviation Sector.
What are the most interesting developments that you are engaged in for the moment?
We are deeply involved in several ongoing projects concerning automation and autonomy in different domains. As one example, we are part of a LFV research project AVAP (Automated Vehicles for Airports) where we at Combitech have developed a system for keeping track of all movements on the Airport Airside, including allowing and revoking the automated vehicles' "clearance" to drive on the manoeuvre area (airside), more or less the same way as manned vehicles need clearance when entering e.g. the runway. The system, that is based on the already operational system DRIWS (Digital Runway Incursion Warning System), not only keeps track of movements but also gives both drivers and air traffic controllers an alert when a vehicle is in the wrong location without proper clearance. Hence, utilising the system effectively reduces the risk for runway incursions and ensures that runway incursions are detected, which enables involved personnel to act accordingly and thereby avoid potentially serious incidents. The system, that has an extremely high precision positioning capability without any latency, cannot only be used within aviation but also at for example ports and mines.
Which feature are you most proud of in the system?
I'm most proud of the fact that most of the features that users asked for, including what was requested by the research project, were already in the system. The DRIWS system already had the necessary capabilities for managing vehicles – autonomous or not – and thereby significantly contribute to complying with relevant safety criteria in an unparalleled cost-effective way. This is entirely a result of the skilled engineers behind the system, who have both deep technical and operational knowledge.
What are the success factors?
It is definitely the cooperation between the different stakeholders. We have the same goal, efficient operations, as a driving force.
So what are the obstacles?
I would not say there are obstacles, however, the process for having a system validated for Airside use is long and takes much effort from all involved. Safety is of course core, but a more efficient process would facilitate the progress in several areas. A balanced approach to managing risks and "bureaucracy" is a factor if we want to modernize our airports. Someone said that we must not let the best be the enemy of the good, and translated into the aviation domain I get the feeling that we sometimes continue to use obsolete and inefficient solutions, while waiting a perhaps unnecessary long time for the approval of a clearly better solution. I believe that we need to change the regulations to be more based on functional requirements, rather than relying on detailed specifications of antiquated technology.
You are a member of SAG, what advantages do you see regarding your membership?
The membership facilitates for us to meet companies working within the Aviation sector that we, perhaps, would not have encountered otherwise. We learn from their experiences of the markets and customers. It gives us an outside in perspective, which is very useful. It also gives us the opportunity to build alliances in order to gain new and larger business and market intelligence working together. We also find partners, with whom we can develop new products and services, where some of these ideas are related to autonomy and automation.
Combitech AB will be the hosts of the next SAG Member meeting on January 14th located at Combitech Stockholm. Contact the SAG team for more details.
Learn more about Combitech at www.combitech.com
Learn more about SAG here >